You Wish by Mandy Hubbard -
4 out of 5 stars
(release date August 5, 2010)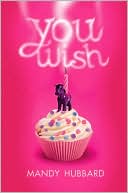 Summary via
goodreads
.

What if all your wishes really came true?

Kayla McHenry's sweet sixteen sucks! Her dad left, her grades dropped, and her BFF is dating the boy Kayla's secretly loved for years. Blowing out her candles, Kayla thinks: I wish my birthday wishes actually came true. Because they never freakin' do.

Kayla wakes the next day to a life-sized, bright pink My Little Pony outside her window. Then a year's supply of gumballs arrives. A boy named Ken with a disturbing resemblance to the doll of the same name stalks her. As the ghosts of Kayla's wishes-past appear, they take her on a wild ride . . . but they MUST STOP. Because when she was fifteen? She wished Ben Mackenzie would kiss her. And Ben is her best friend's boyfriend.

REVIEW:
Don't let the hot pink cover and cupcake fool you, this book has depth!
While the tone of the cover design and the blurb might make you think this is a fun, fluffy book, it's so much more than that. Don't get me wrong, YOU WISH
is
a lot of fun. I actually laughed out loud a few times - which almost never happens. But, YOU WISH is also about a very real girl going through a difficult time.
I really enjoyed this book. Kayla is a very well-developed, three-dimensional girl with conflicting desires, fears and hopes. Her fears of losing her best friend, her stubborn determination to be different, and her painful crush on Ben add up to create a unique, believable character that I liked a lot. Her best friend Nicole, and her mother are also well-created. These are people you know, and understand. They all make mistakes, or make bad choices but they're human, and it's easy to see why they do these things. I think it can be so easy to take the "villain" route with a character but when you can make that character's motivations as easy to understand and as sympathetic as the "good guy" then you've done a great job.
What's great about this book is that even though I felt pretty confident that I knew how it was going to turn out, I still didn't know
how
it was going to get there and so I had to read the whole book in one night just to find out. YOU WISH will keep you guessing even when you think you know where it's going. Factor in an awesome, unique concept, an interesting setting (rural "cow town" Enumclaw, WA - Mandy Hubbard's home town), and even more interesting hobbies (dirt bikes anyone?) and you've got a great read!
Cover:
I think the cover is cute and it does represent the story well, but it also comes off maybe a bit
too
cute, which might turn away some people who think this book is all fluff, which it isn't. I think if I saw this in the store, I might think it's too young for me, which is a shame.
Writing:
4/5
Characters:
4/5
Plot:
4.5/5
Overall Rating:
4/5