The Summer of Skinny Dipping by Amanda Howells -
4 out of 5 stars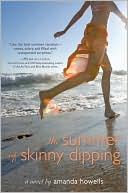 Summary via
goodreads
.

"Sometimes I still wake up shivering in the early hours of the morning, drowning in dreams of being out there in the ocean that summer, of looking up at the moon and feeling as invisible and free as a fish. But I'm jumping ahead, and to tell the story right I have to go back to the very beginning. To a place called Indigo Beach. To a boy with pale skin that glowed against the dark waves. To the start of something neither of us could have predicted, and which would mark us forever, making everything that came after and before seem like it belonged to another life. My name is Mia Gordon: I was sixteen years old, and I remember everything..."

After getting dumped by her boyfriend, Mia is looking forward to spending a relaxing summer in the Hamptons with her glamorous cousins. But when she arrives she find her cousins distant, moody, and caught up with a fast crowd. Mia finds herself lonelier than ever, until she meets her next-door-neighbor, Simon Ross. And from the very first time he encourages her to go skinny dipping, she's caught in a current impossible to resist.
REVIEW:
I really enjoyed this book. Mia is easy to relate to and Simon is easy to fall for. I loved that this book was about more than just a romance. It was about Mia figuring out who she is and learning to love herself. I think almost everyone can relate to feeling inadequate or comparing themselves to those who seem "perfect" and feeling like they don't measure up. Mia's journey was believable, funny, and heartbreaking. And even though I saw the end coming from the very beginning, that did not in any way lessen the impact.
THE SUMMER OF SKINNY DIPPING is a sweet, emotional book with depth. It will definitely stay with you after you finish.
Cover:
I like the cover. It has a nice summery feel.
Writing:
4/5
Characters:
4/5
Plot:
4/5
Overall Rating:
4/5