The Light (Morpheus Road #1) by D.J. MacHale -
3.5 out of 5 stars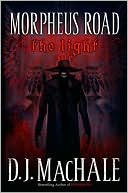 Summary via
goodreads
.

Marshall Seaver is being haunted. In the first installment of this chillingly compelling trilogy, sixteen-year-old Marshall discovers that something beyond our world is after him. The eerie clues pile up quickly, and when people start dying, it's clear whatever this isit's huge.

Marshall has no idea what's happening to him, but he's soon convinced that it has something to do with his best friend Cooper, who's been missing for over a week. Together with Coop's sister, Marsh searches for the truth about what happened to his friend, ultimately uncovering something bigger than he could ever have imagined

REVIEW:
First of all, I didn't know when I got this book that it's intended for younger readers (according to amazon it's for middle-schoolers). I think if I was in middle school I would've loved this book. It's creepy, it's gross, it's got a mystery and some genuine scares. I liked the concept of a character Marshall created coming to life. Overall, it starts out kind of slow, but picks up towards the last third or so. It sets up a lot of interesting stuff for the sequel (this is the first in a trilogy) which will probably be even better because all the set up has already happened.
Cover:
The cover is okay. It works well for what the story's about.
Writing:
4/5
Characters:
3.5/5
Plot:
3.5/5
Overall Rating:
3.5/5