Firelight by Sophie Jordan -
4 out of 5 stars
(release date September 7, 2010)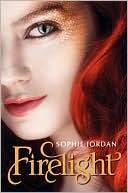 Summary via
goodreads
.


With her rare ability to breathe fire, Jacinda is special even among the draki—the descendants of dragons who can shift between human and dragon forms. But when Jacinda's rebelliousness leads her family to flee into the human world, she struggles to adapt, even as her draki spirit fades. The one thing that revives it is Will, whose family hunts her kind. Jacinda can't resist getting closer to him, even though she knows she's risking not only her life but the draki's most closely guarded secret.

REVIEW:
I'll be the first to admit that when I first heard about this book I was like,
Dragons? Really?
But then I read the blurb and I thought it sounded interesting although I still couldn't quite work out the whole "she turns into a dragon" thing. And then, the more I thought about it, the more I wanted to read it. Especially once I started to see so many positive reviews, so I was THRILLED when I got a surprise copy in the mail from HarperTeen.
FIRELIGHT starts with exciting action that lets us know just what Jacinda and her people have at stake. They're hunted for their body parts and blood which is said to have magical properties. And Jacinda with her fire-breathing ability is the most wanted of all - and not just by hunters, her own people prize her above all others, too.
I was immediately sucked in to the story and from the moment Jacinda and Will met, I was rooting for them. Sophie Jordan does chemistry
really
well. You can feel Jacinda and Will's attraction and longing for each other. It practically drips off the page. Also, the kissing scenes? SO steamy!
What I love about the romance here, is that this story could've easily veered into Twilight territory and become a copycat, but despite the similar plot elements (the prey falls for the hunter and vice versa) FIRELIGHT is its own story. It has real depth by bringing in Jacinda's conflicted relationships with her non-manifesting twin sister and mother who want her to deny her true nature and live a normal life. And her changing feelings about her childhood friend (and intended) Cassian. As well as her confusion and frustration over wanting to go back to the one place she feels free and knowing that if she does, she could lose that freedom forever.
The characters, both major and minor are well-drawn here. No one is 100% bad or good. As the story unfolds, right up to the surprising, and thrilling climax at the end, we're forced to re-examine our opinions of almost everyone. I love that I can relate to and understand all the major players in this story. (Also, Will is dreamy.)
FIRELIGHT is the first in a trilogy that promises to be exciting, dramatic, and heartbreaking. I look forward to watching Jacinda's relationships play out both with Will and Cassian, and with her family and the draki people. I can't wait for the next book!
For those of you who are on the fence about this one, don't let the thought of yet another mythical creature keep you from reading FIRELIGHT. It's totally worth your time, and so much more than just a generic paranormal romance with a new creature inserted in it.
Cover:
Love this cover! The hint of scales near her eye is really intriguing and after reading the book, I can also say that it's SO perfect.
Writing:
4/5
Characters:
4/5
Plot:
4/5
Overall Rating:
4/5