Siren by Tricia Rayburn -
3 out of 5 stars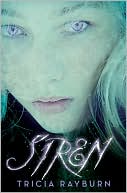 Summary via
goodreads
.

Seventeen-year-old Vanessa Sands is afraid of everything—the dark, heights, the ocean—but her fearless older sister, Justine, has always been there to coach her through every challenge. That is, until Justine goes cliff-diving one night near the family's vacation house in Maine, and her lifeless body washes up on shore the next day.

Though her parents hope that they'll be able to find closure back in Boston, Vanessa can't help feeling that her sister's death wasn't an accident. After discovering that Justine was keeping a lot of secrets, Vanessa returns to Winter Harbor, hoping that Justine's boyfriend might know more. But Caleb has been missing since Justine's death.

Soon, it's not just Vanessa who's afraid. All of Winter Harbor is abuzz with anxiety when another body washes ashore, and panic sets in when the small town becomes host to a string of fatal, water-related accidents in which all the victims are found, horrifically, grinning from ear to ear.

Vanessa turns to Caleb's brother, Simon, for help, and begins to find herself drawn to him. As the pair try to understand the sudden rash of creepy drownings, Vanessa uncovers a secret that threatens her new romance—and will change her life forever.

REVIEW:
This story had a very cool concept, with an intriguing mystery. I liked Vanessa and the way she grew throughout the story. I also really liked Simon and his growing relationship with Vanessa, I thought it was believable and emotional. I also felt like I got a good understanding of both Justine and Caleb despite their not being actively in the story as much.
Where the book fell a bit flat for me was in the plotting. I think there were too many things left out or sometimes I had trouble figuring out when and where things were happening. As the story reached the climax I felt like there was a lot of information missing about major plot points, particularly about Vanessa's heritage. Or things were revealed without explanation as to how they could've occurred. I'm guessing some of this information was intentionally left out because the ending leaves things open for a sequel, but I think I would've felt more satisfied had some of the mystery been explained in more detail.
The writing is nice though. I got a very strong sense of what Winter Harbor, Maine was like. I felt like I could envision everywhere they went which was great.
That said, this is a very interesting read that will keep pulling you along to ending, and the concept behind the story is unlike anything else out right now.
Cover:
Very cool looking cover, though a bit spookier than the actual book. Also, Vanessa and her sister both have dark hair (as do all the major females in the story) so I'm not sure who it's supposed to be.
Writing:
3/5
Characters:
3.5/5
Plot:
3/5
Overall Rating:
4/5