Once again I have an awesome giveaway thanks to
Macmillan
and Zeitghost Media! This week I'm giving away
ALL THESE THINGS I'VE DONE
by
Gabrielle Zevin
! Check out the trailer below.
ALL THESE THINGS I'VE DONE is a dystopian, set in near future NYC, but to me, it sounds more like a horror novel. Take a look at the blurb and I think you'll see why!
In 2083, chocolate and coffee are illegal, paper is hard to find, water is carefully rationed, and New York City is rife with crime and poverty. And yet, for Anya Balanchine, the sixteen-year-old daughter of the city's most notorious (and dead) crime boss, life is fairly routine. It consists of going to school, taking care of her siblings and her dying grandmother, trying to avoid falling in love with the new assistant D.A.'s son, and avoiding her loser ex-boyfriend. That is until her ex is accidentally poisoned by the chocolate her family manufactures and the police think she's to blame. Suddenly, Anya finds herself thrust unwillingly into the spotlight--at school, in the news, and most importantly, within her mafia family.
Did you see that? NO COFFEE!! The horror! I just can't even imagine...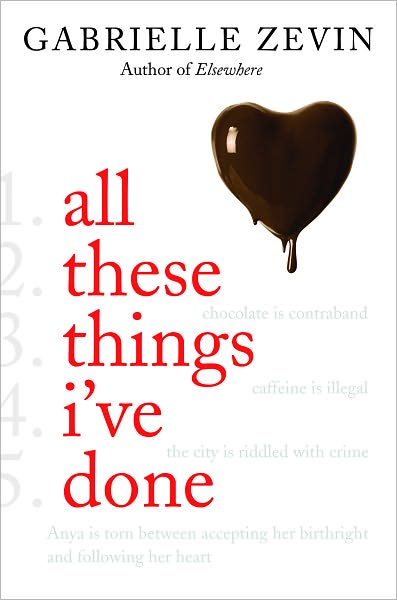 To win this book, you need to have a
US or Canada mailing address
. Sorry about that, this book is being sent straight from the publisher and that's their condition. I will be doing an international giveaway soon though!
To enter, just
leave a comment
here with your email address so I can contact you. (Be sure to spell your address out to avoid spam bots! Example: yourname at gmail dot com.) For an extra entry, tweet about this contest (or retweet my contest tweet) and be sure to @ me, I'm
@valeriekwrites
so I can include your entry.
Contest ends
Thursday, September 15th at 11:59pm PT
. I will announce the winner here on Friday, September 16th.