The Girl Who Circumnavigated Fairyland In A Ship Of Her Own Making
by
Catherynne M. Valente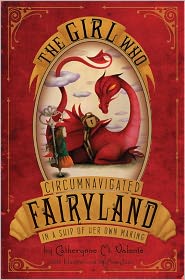 SUMMARY:
Twelve-year-old September lives in Omaha, and used to have an ordinary life, until her father went to war and her mother went to work. One day, September is met at her kitchen window by a Green Wind (taking the form of a gentleman in a green jacket), who invites her on an adventure, implying that her help is needed in Fairyland. The new Marquess is unpredictable and fickle, and also not much older than September. Only September can retrieve a talisman the Marquess wants from the enchanted woods, and if she doesn't . . . then the Marquess will make life impossible for the inhabitants of Fairyland. September is already making new friends, including a book-loving Wyvern and a mysterious boy named Saturday.

With exquisite illustrations by acclaimed artist Ana Juan, Fairyland lives up to the sensation it created when the author first posted it online. For readers of all ages who love the charm of Alice in Wonderland and the soul of The Golden Compass, here is a reading experience unto itself: unforgettable, and so very beautiful.
REVIEW:
What a fun book! It's classic in the best way, reminding me of both The Wizard of Oz, and Alice in Wonderland, and it's got a modern touch with issues such as September's father gone to war.
The vocabulary and wordplay in this book is fantastic. I would give it high marks just for the sheer amount of new words a young reader is bound to pick up. Plus, the wordplay adds another level to the story that makes it fun for adults to read as well.
September is a spunky girl and a bit of a tomboy who doesn't quite realize how strong and brave she is, but as her adventures into the world of fairyland continue, her confidence in herself grows. What I loved most about this book is it's subtle way of getting it's "messages" across (I hate to use that word in the sense that it can sound like it's preachy, which it isn't, but I can't think of a better one) without making September's experiences feel like LESSONS. It is truly charming.
This is a great book for parents and kids to read together, especially because younger ones might find some of the words challenging, although I don't think they will be off-putting. If you're looking for a fun classic (in the best sense of the word) story, you should definitely check out THE GIRL WHO CIRCUMNAVIGATED FAIRYLAND IN A SHIP OF HER OWN MAKING!