Thanks again to MacMillian Publishers and Zeitghost Media, I've got another book giveaway! This one looks like a fun one! Check out the trailer for
MY LIFE UNDECIDED
by
Jessica Brody
. It's one of the best I've seen in a while!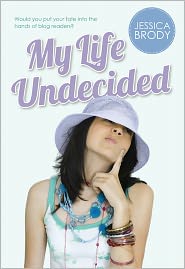 Brooklyn Pierce, a fifteen year-old girl notorious for making bad decisions, enlists the help of the online blog reading population to vote on how she should live her life. But some things in life simply aren't a choice...like who you fall in love with.
Also be sure to check out this fun website inspired by the book! Undecided about something? Go here:
MyLifeUndecided.com
Jessica is on tour right now with the Pen Fatale Tour. Get all the info on the
Pen Fatale Tour Facebook Page
!
Rules:
This book is being sent straight from the publisher so at their request, unfortunately this contest is for US and Canada mailing addresses only.(But I swear I'm working on a giveaway for all you international folks!)
To enter, leave a comment here with your email address so I can contact you. (Be sure to spell your address out to avoid spam bots! Example: yourname at gmail dot com.) For an extra entry, tweet about this contest (or retweet my contest tweet) and be sure to @ me, I'm
@valeriekwrites
so I can include your entry.
Contest ends Thursday, October 13th at 11:59pm PT. I will announce the winner here on Friday, October 14th.