Shadow Hills by Anastasia Hopcus
3 out of 5 stars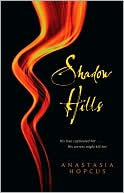 His love captivated her... his secrets might kill her.

Since her sister's mysterious death, Persephone "Phe" Archer has been plagued by a series of disturbing dreams. Determined to find out what happened to her sister, Phe enrolls at Devenish Prep in Shadow Hills, Massachusetts—the subject of her sister's final diary entry.

After stepping on campus, Phe immediately realizes that there's something different about this place—an unexplained epidemic that decimated the town in the 1700s, an ancient and creepy cemetery, and gorgeous boy Zach—and somehow she's connected to it all.

But the more questions she asks and the deeper she digs, the more entangled Phe becomes in the haunting past of Shadow Hills. Finding what links her to this town…might cost her her life.

I don't like to give negative reviews so I'll just say that this book didn't do it for me. While I liked the main character Phe, and several of the minor characters, I just didn't enjoy the plot the way I thought I would. Without spoiling anything I'll say that Shadow Hills is an odd mix of science and mythology that with the little explanation provided don't really mesh together well.
This story had so much potential but I didn't feel that it quite reached it. Intriguing mysteries were set up only to be solved with no effort whenever the plot required it. Help/solutions magically appear without explanation whenever Phe is in danger.
Romance fans will enjoy this book. The relationship between Phe and Zach is believable, and I cared about them. I felt most of the characters were well-drawn and interesting. They felt real. Overall, Shadow Hills is a good debut. I expected Anastasia Hopcus's books will only get better.
Cover:
The cover is sort of cool looking but I have no idea what it is (orange smoke?) or what it has to do with the book. It doesn't give any sense of the spookiness of the town or the romance or anything else. I also don't think the tagline "His love captivated her... his secrets might kill her." is really representative of the story.
Writing:
2.5/5
Characters:
4/5
Plot:
2.5/5
Overall Rating:
3/5