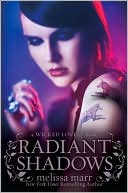 Radiant Shadows by Melissa Marr - 4 out of 5 Stars

Hunger for nourishment.

Hunger for touch.

Hunger to belong.

Half-human and half-faery, Ani is driven by her hungers.
Those same appetites also attract powerful enemies and uncertain allies, including Devlin. He was created as an assassin and is brother to the faeries' coolly logical High Queen and to her chaotic twin, the embodiment of War. Devlin wants to keep Ani safe from his sisters, knowing that if he fails, he will be the instrument of Ani's death.

Ani isn't one to be guarded while others fight battles for her, though. She has the courage to protect herself and the ability to alter Devlin's plans—and his life. The two are drawn together, each with reason to fear the other and to fear for one another. But as they grow closer, a larger threat imperils the whole of Faerie. Will saving the faery realm mean losing each other?

Alluring romance, heart-stopping danger, and sinister intrigue combine in Melissa Marr's next volume of Melissa Marr's New York Times bestselling Wicked Lovely series.
Radiant Shadows releases April 20, 2010
I really liked this book. In fact, I think it might be my favorite of the series so far. I didn't have the highest hopes going in, because I had a hard time getting into Fragile Eternity, but this book won me over right away. Ani is an interesting character in an even more interesting situation. She felt very authentic and was easy to connect to.
One thing that surprised me about this book was how much I came to like Devlin. He's a strange and somewhat distant man and yet I totally got him. I loved watching him struggle with his emotions and grow into a character that I really cared about. It shows what a great writer Melissa Marr is that she can take a character like Devlin and make me care about him.
As always, I'm astounded by the world-building in the Wicked Lovely series. It truly just blows my mind. The worlds and their rules are so complex and detailed yet I can follow them. The descriptions are so clear that I can see every place they go, can practically feel and smell it.
If I had one complaint it would be that there was maybe more setup than payoff. I'm eager to read the next book and see what happens but I would've liked a little more to happen in this book. Still, it was a fun read. I can't wait for the next one!
Cover:
LOVE the cover! The Wicked Lovely books have some of the best covers out there and this one is no exception. Bonus points for the fact that it actually relates to the plot in the book, rather than just being pretty.
Writing:
5/5
Characters:
4/5
Plot:
3.5/5
Overall Rating:
4/5