I just wanted to take a moment and celebrate the release today of Tessa Gratton's debut novel, BLOOD MAGIC. Not just because Tessa is an awesome person I've been fortunate enough to get to know in the last year (she is) but because BLOOD MAGIC is an AWESOME book and you NEED to read it NOW. Check it out: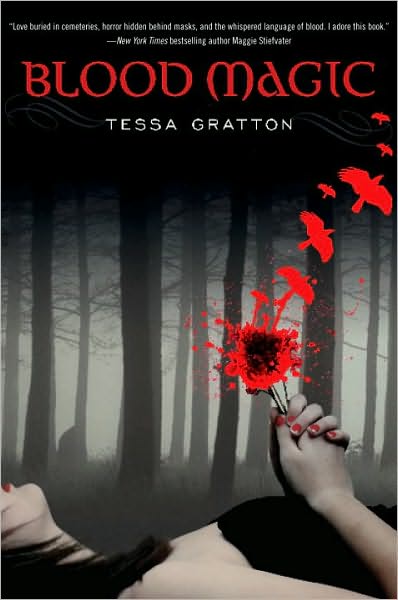 Everywhere Silla Kennicott turns she sees blood. She can't stop thinking about her parents alleged murder-suicide. She is consumed by a book filled with spells that arrives mysteriously in the mail. The spells share one common ingredient: blood, and Silla is more than willing to cast a few. What's a little spilled blood if she can uncover the truth? And then there's Nick—the new guy at school who makes her pulse race. He has a few secrets of his own and is all too familiar with the lure of blood magic. Drawn together by a combination of fate and chemistry, Silla and Nick must find out who else in their small Missouri town knows their secret and will do anything to take the book and magic from Silla.
Why You Should Read This Book:
First let me say, don't let the title fool you. There are no vampires (or any other paranormal creatures) in this book! What there
is
in this book is lots of magic, (it's so real that you can see it like a movie, and you'll want to try it just to see if there's magic in your blood too. Or... maybe that's just me.) There's also steamy kisses, a peek into a fascinating descent into evil, a real girl with real problems who doesn't need a boy to save her, steamy kisses, and my most favorite thing in a book, a plot that keeps you on your toes and guessing all the way until the very end! (And did I mention steamy kisses?) I really loved this book and the world created in it. I'm already salivating for the companion novel!
So if you haven't added BLOOD MAGIC to your must read list you're in luck BLOOD MAGIC is in stores right now! AND I might be giving away a copy soon, you just never know!