This past Earth Day (yes, I am woefully slow) ABC Family and Pretty Little Liars sent me a nifty trowel, some awesome yard work gloves, AND a special link to another sneak peak of the new season of Pretty Little Liars! Complete with info on whose shirt is coming off, and other vital info. Check out the video below, or go to the special link they sent me here for even more:
http://abcfamily.com/plantinglies
Who else is excited for the new season?? PLUS Did you know there are TWO new PRETTY LITTLE LIARS books coming out this year? I am all kinds of excited about this. These books were my crack last winter I read the first seven in like a week. The first one, TWISTED comes out July 5th, 2011.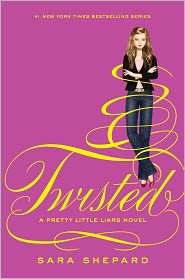 So far there's no blurb up yet, but I can't wait to see what it's about and if the show has influenced the new book at all!