A Love Story: Starring My Dead Best Friend by Emily Horner -
3.5 out of 5 stars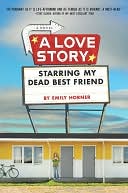 For months, Cass Meyer has heard her best friend Julia, a wannabe Broadway composer, whispering about a top-secret project. Then Julia is killed in a sudden car accident, and while Cass is still reeling from her death, Julia's boyfriend and her other drama friends make it their mission to bring to fruition the nearly-completed secret project: a musical about an orphaned ninja princess entitled Totally Sweet Ninja Death Squad.

Cass isn't one of the drama people. She doesn't feel at home with Julia's drama friends, and she doesn't see a place for her in the play. Things only get worse when she finds out that Heather Galloway, the girl who made her miserable all through middle school, has been cast as the ninja princess.

Cass can't take a summer of swallowing her pride and painting sets, so she decides to follow her original plan for a cross-country road trip with Julia. Even if she has a touring bicycle instead of a driver's license, and even if Julia's ashes are coming along in Tupperware.

Totally Sweet Ninja Death Squad is a story about friendship. About love. About traveling a thousand miles just to find yourself. About making peace with the past, and making sense of it. And it's a story about the bloodiest high school musical one quiet suburb has ever seen.


This was a sweet book. It's told in chapters that alternate between the past and the present following both Cass's bike ride across the country and the setting up of Totally Sweet Ninja Death Squad.
Once I got past the idea that parents would actually let a 17-year-old girl ride her bike across the country by herself (which, honestly, was really hard for me to get over, especially once you see the kind of conditions she has to deal with, like camping in abandoned fields by the highway, alone, in a tiny tent) I was able to enjoy the story.
It drags a bit in the middle, but just when you're starting to wonder where the story is going, it picks back up and gives you a couple surprises. I thought the unfolding of the love story worked really well, and the grief everyone was dealing with was complex and real. All in all, this was a good book, you just have to stick with it to the end.
Cover:
4
Writing:
4/5
Characters:
5/5
Plot:
3.5/5
Overall Rating:
3.5/5